Masaru Hyodo



Voiced by

Manga Debut

Anime Debut
Masaru Hyodo is a bully at Koyuki's school. He is good at playing guitar. He targets Koyuki, because he thinks that Koyuki is overstepping the social rankings at the school when he starts to get more confident.
Personality
Edit
Masaru is a bully, who behaves in an arrogant and controlling manner. He allies with Rikiya to bully Koyuki. His attitude toward Koyuki improves later on in the series.
Masaru is also a talented musician.
Manga Plot
Edit
Anime Plot
Edit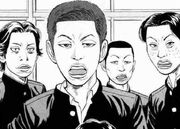 Ad blocker interference detected!
Wikia is a free-to-use site that makes money from advertising. We have a modified experience for viewers using ad blockers

Wikia is not accessible if you've made further modifications. Remove the custom ad blocker rule(s) and the page will load as expected.